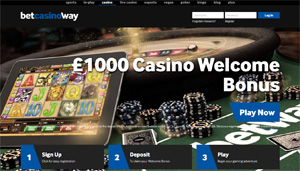 Betway Online Casino
allows you to play from anywhere
in the world provided your sim is registered in a country
where online gambling is legal
Advancements in wireless, internet and mobile technologies in recent years have made online gambling more accessible and convenient than ever before.
You can literally play at your favourite online or mobile casino from anywhere in the world on your laptop, mobile or tablet device…in theory that is.
The reality is that although the technology supports online and mobile game play from any location, laws do not. For example, in the UK you can happily play your favourite online casino games at a number of reputable, licensed online and mobile casinos. Journey to Spain for your annual holiday and you may just have a problem.
Due to the fact that online gambling has not been legalised and regulated in some parts of Europe and most of the US, you'll find that the majority of providers will not even allow you to login to your existing casino account from these locations. Return home and you'll have full access once again.
At some online casinos you'll be able to get around this frustrating "lockout" by simply using your UK Sim card to access the casino apps, as this will give you a UK based IP address. This works at online casinos like Betway (just another reason to sign-up and play at Betway Casino).
Other apps, like the one offered by Betsafe however, geo-target based on your phone's geo-location, rather than the IP, and in these cases even with a UK sim you will still not be able to access your account until you return home.
In these instances, even contacting customer support will not gain you access to the casinos, as they and you have to comply with the laws of the country you are visiting for the duration of your stay.
So while we can in theory enjoy our favourite pastime anywhere in the world, the reality is that it's not always possible. Will the laws of every country ever catch up to the UK and allow for legalisation and regulation of online gambling, which actually makes each country richer in terms of tax money earned from online casino operators… we guess only time will tell.