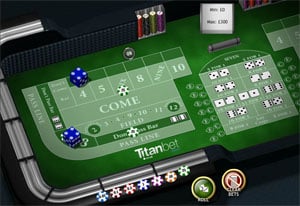 Play Craps at Titan Bet Casino
The Pass Line Bet is not only the primary bet in the game of craps, but also the most played wager at casinos. Almost everyone will include the Pass Line bet in their selections at the craps tables. While it may be a popular option, it is not necessarily the best way to play if you're looking for high returns and therefore the best possible payout rates on your craps bets.
The best bet in this instance is the Don't Pass Bet which offers not only a slightly higher payout, but also the satisfaction of winning more often as others around you lose, even if you're playing online in a multiplayer or live dealer games. And whether you like to admit it or not, that's a good feeling.
When making a Don't Pass bet you have to do this on the come out roll. On that first roll you'll win if a two or three is rolled, lose on a seven or eleven or push on a twelve. If any of the remaining numbers are rolled (these being four, five, six, eight, nine or ten), then that number becomes the point and the shooter will continue to roll until either a seven or the point is rolled. If a seven comes up first, then you'll win your bet. All wins are paid out at 1:1 on this bet.
On a Don't Pass bet the house advantage is a mere 0.40 percent per roll, but you are also able to lay odds if a point is established in order to increase your effective payout rate. This means that you will basically be placing an additional wager if a point is established, and betting against the point being rolled before a seven. Winning in these instances earns you payouts as follows:
On a Four or Ten – 1:2 payouts
Five or Nine – 2:3 payouts
Six or Eight – 5:6
All of the above bets carry no house edge, making them highly attractive and when you consider the average of the zero percent house edge when laying odds against the point, as well as the 0.4 percent house advantage on the Don't pass Bet, the overall edge is rather insignificant. In fact, this is amongst the smallest house edge's possible in online casino games, unless of course you take the time and effort to learn complex strategies in games of blackjack or video poker.
While opting to play the Don't Pass wager goes against the crowd since the majority of players opt to bet the Pass Line, it is the smarter choice and allows for greater overall returns.