We feel pretty confident that we have equipped you with just above everything you need in order to have a profitable and pleasurable Video Poker experience online.
Before we go, we would like to leave you with our Know When to Hold 'Em…Know When to Fold 'Em strategy charts, which outline how many cards you should Hold and those that you should Fold in the hopes of making a winning hand at Jacks or Better Video Poker.
By all means, please 'Fold' the necessary cards when you have the following hands: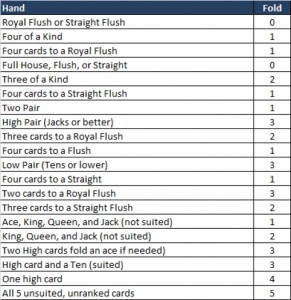 Hold these winning card combinations and you're a sure winner! Click on each of the images to enlarge them.
We highly recommend that you print off these charts and refer to them while you are playing online. We also advise that you try playing on 'Play for Fun' machines before you progress to the Real Money machines.