Blackjack is one of the most popular online casino games and it's not difficult to see why – not only does it allow players the opportunity to put their skills to the test, but it also offers some of the best odds at the casino. Furthermore, the house edge can be lowered significantly through strategic game play.
Online casinos offer a variety of game variants from traditional blackjack games that are governed by Random Number Generators (RNG's) to Live Dealer games where real people deal the cards and interact with players from around the world through streaming media and in-game chat.
However many players often question which variant is better and whether traditional online blackjack is preferable to playing Live Dealer Blackjack games. Here we will look at the pros and cons of both so that you can make an informed decision.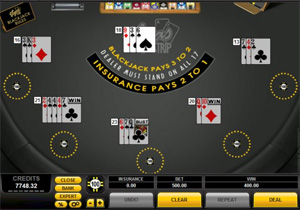 Play Online Blackjack games at Luxury Casino
Traditional Online Blackjack Games
Traditional online blackjack games are governed by Random Number Generators (RNG's) – these are effectively computer programs that are built into the software of all online games (and in slots and video poker machines at land based casinos). This software generates billions of random strings of numbers which then determine the outcome of the hand you are dealt. An RNG possesses no artificial intelligence and has no knowledge of the results of a previous hand and nothing that can make a conscious decision in order to influence the next hand.
Blackjack games offered by reputable online casinos that are licensed and regulated are subject to stringent RNG testing and results are audited by independent bodies like eCogra. Some online casinos even publish their payout percentages online.
Advantages
The great thing about these blackjack games are that they are private and you are in complete control of the game pace and betting limits. There is absolutely no pressure because there is no one to grow impatient while you are mulling over your next move. It is also easy to use a blackjack strategy card, keep records of your wins and losses as well as your bankroll.
There are also vast numbers of game variants to choose from so you can review them and select those with the most favourable rules and lowest house edge.
Disadvantages
For some players, RNG based blackjack games are devoid of excitement as they lack the human factor that they are used to in land based games. For some people playing against a machine seems boring and they worry that the RNG governing the game is rigged (even though it can't be when you're playing at reputable casinos).
Another factor that is off-putting for some is the fact that you cannot count cards in these types of games, so advantage players avoid playing them altogether, that said though, card counting is not possible in Live Dealer Blackjack games either.
Live Dealer Blackjack Games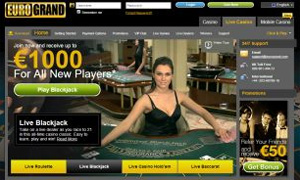 Play Live Dealer Blackjack at EuroGrand Casino
As the name implies, Live Dealer Blackjack is presented by an actual person and allows the player to connect via the casino to these games where they can play against the dealer in real time.
These games are orchestrated by the dealer and as such no RNG is employed, so live actions determine whether you win or lose.
Advantages
The human element at an actual blackjack table offers player a realistic and authentic experience that is very exciting. Add to this the fact that players and dealers can interact with one another gives them a social aspect too.
If you play a game where other players are also present, they can also be included in conversations via the chat feature and many players make friends with others from across the globe while playing.
Disadvantages
For more social players, live dealers games are highly favoured, but that doesn't mean that they don't have their own downsides. Like land based blackjack games, these games unfold at a fixed pace and when it's your turn you need to make decisions rapidly because other players and the dealer are waiting for you to do so, which of course adds an element of pressure which can lead to mistakes.
Live blackjack tables also generally have higher betting limits and game variants are very limited. And finally even though these games may load fast, they do not always run as smoothly as other online blackjack games which can lead to frustration.
So which is better?
In the great debate between online versus live dealer blackjack, there is no simple answer to which of these options is better. It really comes down to your own preferences. If you're looking for more control over the game in terms of pace, privacy and wagering limits, then RNG governed blackjack games are better.
If however you are a more social player who craves interaction and a realistic experience where you see the dealer shuffling the cards, then Live Dealer games will be more up your alley. Both have their pros and cons, but both are highly enjoyable. It's really up to you.