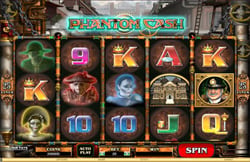 Phantom Cash is a new Video Slots game from Microgaming, one of the industry leaders in the development of excellent online slots games. If you enjoy games with paranormal themes, you will enjoy this slots game where you get to zap ghosts for the fun of it, while winning some great prizes on the side! With Halloween being around the corner, we can expect a range of ghoulish games but it will be hard to find one better than the Phantom Cash slot.
Phantom Cash is a 5 reel, 25 payline video slot featuring the famous Victorian ghost hunters Thurmingham and Castairs that takes you on a spine chilling adventure as they attempt to cash ghosts and ghouls along the way. The game is graphically amazing and the sound effects have been strategically selected to create a ghoulish atmosphere.
Look out for the haunted mansions because when they appear on three, four or five, they will trigger the Ghost Zap Feature. In this feature the Thurmingham and Castairs are released onto reels one and five and suck up all of the ghosts on their lines and multiplying your bets by two. You will also be awarded with free spins during this feature.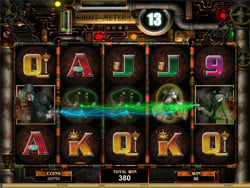 Another super adventure comes into play when the two ghost hunters appear on either side of your screen and then the animated action begins and your wagers will be multiplied by four with the Ghost Meter keeping record of the number of ghosts caught. The best part is that you will continuously receive free spins for as long as the ghosts appear on active paylines.
This game is packed with action, fun and rewards from start to finish. Bets range from 0.01 to 0.25 per line and as always maximum bet is recommended as it will ensure maximum payouts.
So if you're in the mood for a some scary, thrilling fun, play Phantom Cash now!