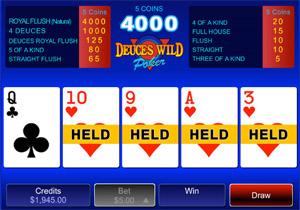 Play Deuces Wild Video Poker at Betway Casino
If you're new to online video poker you'll probably have a difficult time selecting which machine to play as there are literally hundreds of variants to choose from, all with their own rules and unique paytables. Knowing which one to play can be a daunting task if you're not sure how they actually and differ and what to look for.
Here we'll take a look at tips on how to choose the best video poker game when visiting your favourite online casino based on your own preferences and game play objectives.
Comparing Video Poker Games
As previously mentioned there are a host of options when it comes to video poker games, to narrow down your selection, we have divided them into three categories for you to choose from:
1. Simple Games
If you prefer to play video poker game that are easy to learn, then the best options for any novice player is Jacks or Better video poker. The reason for this is that sound basic strategy for Jacks or Better is relatively simple to learn and master and the games do not feature any wild cards or bonus payouts that complicate things.
So if you've never played video poker before, this is where we recommend you start.
2. Exciting Games
If you've mastered sound basic Jacks or Better video poker game play and are looking for something a little more exciting, then opt for games which include wild cards like Joker Poker or any of the Deuces Wild variants.
These games are not only more fun to play, but they also offer you a better chance at achieving hands like the Wild Royal Flush or Four-of-a-kind hands than their non-wild counterparts do. Obviously this ups the winning potential which is always a thrill.
3. Profitable Games
If your aim is to walk away from the casino with a profit then you need to play a game that has a 100% payout rate and no house edge. While these games are few and far between they do exist at online casinos in the form of Full Pay Deuces Wild and Double Bonus video poker.
It is always important to check the paytables before you play to ensure that you are playing a full pay game.
Comparing Video Poker Paytables
Once you have chosen the game you want to play, you should always check the paytable and compare it to similar games to ensure what payout rates are on offer. While Deuces Wild is generally a full pay or 100% plus payout game, some online casinos will lower the paytable to reduce the payouts to under 100%, and in doing so give them an edge over players.
Interesting Twists on Video Poker Games
In addition to the variety of game variants and paytable options, some casino games developers have added interesting twists to standard video poker games to offer new and exciting options such as Progressive Video Poker and Multi-hand video poker games.
Progressive Video Poker
Like progressive jackpot slots, progressive video poker machines are networked with each machine taking a cut of each bet which is then contributed to a cumulative jackpot pool. These machines then offer a generous jackpot to the lucky player who hits a Royal Flush and wins all the money in the prize pool. After this the jackpot total is reset and starts to accumulate again.
While the potential for big wins on these machines may be very alluring, after all, someone's going to win the huge jackpot prizes, these games generally offer worse odds than standard video poker machines. That is however until the jackpot reaches a total high enough for the machine to become profitable. So if you like to go for the thrill of the big win, then these games are for you.
Multi-hand Video Poker
Another great addition to standard video poker games have been the multi-hand machines which allow players to play more than one hand at a time and often up to 100 hands simultaneously.
These games do however require larger bankrolls as they allow you to bet more per hand than standard games, and the great thing is that this feature does not alter the profitability of the machine in any way.