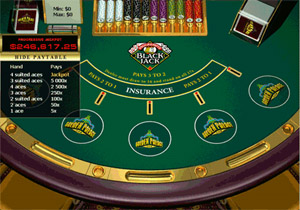 Play Progressive Blackjack at EuroGrand Casino
When it comes to casino games, progressive jackpots have generally been reserved for slot machines, however at online casinos you'll find that you can experience all the fun of blackjack but with the added excitement of playing for a jackpot. This twist allows you the opportunity to win big of a relatively small side bet.
Here we'll take a look at Progressive Blackjack games, how they function and how they differ from traditional ones in terms of strategy and payouts.
How Progressive Blackjack Games Work
Progressive blackjack games differ from standard games in that they include a jackpot side bet. A portion of these side bets is attributed to the jackpot pool, and as they accumulate, so the jackpot total rises. Players are eligible to win the jackpot if they have placed a qualifying side bet and if their hand is a winning one.
The game play in progressive games is similar to that of traditional blackjack with only subtle variations. The first difference is that in order to play for the jackpot prize you are required to place a side bet in addition to your standard wager. The blackjack table will have a designated area for this and you are generally required to place a $1 side bet which activates your chance to win the jackpot but has no further bearing on the hand you play. The game then plays out in the same manner as any standard Blackjack game where you win or lose against the dealer depending on the hand you are dealt.
The jackpot then only comes into play if the hand that you are dealt is comprised of a specific combination of cards and if you hold a qualifying hand you will be paid out accordingly from the jackpot pool. Different progressive blackjack games have various qualifying hands, and payouts are paid out accordingly.
How the Progressive Jackpot Is Allocated
Online casinos payout differently in progressive jackpot games and payouts are generally unlocked by the player holding one or more Aces. In Microgaming's progressive Triple 7's blackjack game, payouts are hit when the player is holding 7's.
Below is an example of how payouts may be structured:
Single Ace: $3
2 Aces with different suits: $15
2 Aces of the same suit: $50
3 Aces with differing suits: $200
3 same suit Aces: $1000
4 Aces: $2000
4 Aces with the same suit: Full Progressive Jackpot Total
Progressive Blackjack Strategy
Progressive Blackjack games are still played according to standard blackjack strategy for the variant the game is based on. For example, if you make your bet and side bet and draw an Ace, you play your hand as usual and will either win or lose according to standard rules and payouts. In addition you will receive a $3 payout from the jackpot pool for holding the single Ace in the hand.
Splitting is permitted in the game, however you can only draw a single additional card for each hand and even though there is a chance of drawing two more Aces, you usually have a better chance of seeing more cards when you hit on a single hand.
It is always advisable to read the rules of any blackjack game variant that you are playing to ensure which rules apply as well as the payouts for a particular game. As previously mentioned, the majority of progressive blackjack jackpots are awarded for holding Aces, but the Triple 7's game only pays out if you are dealt a 7 as the first card in your hand. If you split cards in this game, you are only permitted to claim a jackpot payment for a single hand, making splitting a very bad option in this variant.
It is also important to keep in mind that the jackpot side bet, like any other side bet, generally gives the house a substantial advantage, in this case anything between 22% and 53% depending upon how the game payouts are structured. The size of the jackpot also alters the house edge considerably and the larger the jackpot grows, the smaller the house edge becomes. At a certain point, the jackpot may become so large that the house advantage becomes zero and this is the best time to play a progressive jackpot game. So look out for jackpots in excess of around $120,000 before you play.
As you can see, progressive blackjack can be a fun option at a casino, but these games should only be played when the jackpot is large enough to offer you the best odds of winning.