The best Craps games on the net are offered by Playtech powered online casinos like Europa Casino.
Craps can be a pretty intimidating game at land based casinos, playing craps online removes the intimidation factor, leaving you with nothing but excitement and entertainment.
Europa Casino's Craps game graphics and sound effects are realistic and some of the best we've seen in a long time. Game play is smooth and enjoyable from start to finish and average payouts range from 96.2% upwards, depending on the craps game variant that you play.
So kiss the dice for luck and let the good times roll at Europa Casino!
Craps is one of the most exciting games that you can play at a casino. This action packed game always draws the crowds at land based venues which can be quite intimidating. Playing at online casinos however, takes the pressure off and allows you to try out this exciting game without worrying about making mistakes. Even if you are new to the game you are able to enjoy the casino's practice mode until you get the hang of it.
It is advisable to learn the basics of the game and its rules before you play so that you understand what is going on at every point of the game and also what is expected of you as the game progresses. Let's take a look at that now.
The game of Craps is played with 2 six-sided dice, which can be rolled to form one of thirty-six dice combinations. Below is a table showing the possible combos as well as the payoffs. This will also help you better understand the layout of the Craps table.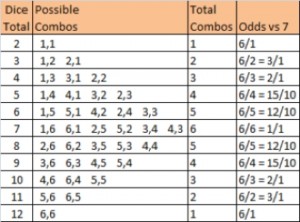 The Craps Table Layout
Craps is often regarded as complicated because the layout of the table appears confusing, but it really isn't. It consists of several areas where bets can be placed. It is more profitable to place bets on the Pass Line and the Don't Pass Bar because the house edge on both these bets is very low, less than 1.5% in both instances (with the Don't Pass Line bets having the least house edge). There are also very many sucker bets that can leave you empty handed in the blink of an eye. These bets constitute any bets in the prop area of the layout.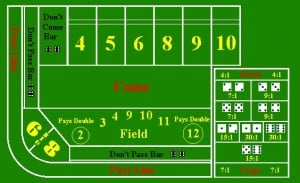 Let's delve into the Bet Types now.