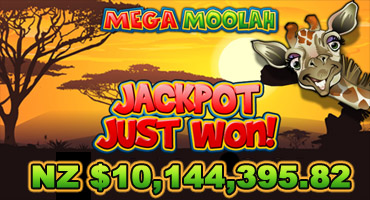 Will you be the next winner?
Play Mega Moolah now!
It's official! Microgaming's Mega Moolah Progressive Jackpot Slot has made the second millionaire for the year, paying out at a massive NZ $10,144,395.82 (£4,926,878.99)!
The lucky millionaire is Rawiri Pou, a 27 year old fast food worker who played Mega Moolah and won the life changing sum on the 17th of June 2016. The win came after Pou deposited $250 at the casino and won NZ$1,500 and decided to use these winnings to extend his game play for a shot at the mega-win on the Mega Moolah slot.
Pou is reportedly still coming to terms with the idea of his newfound wealth which, as with all Microgaming progressive jackpots, will be paid out to him in a single lump sum. At present he has no immediate plans to stop working, but that might change once the money is safely in his bank account.
Unfortunately, unlike the other Mega Moolah winners, Pou's win does not come without complications as the New Zealand Department of Internal Affairs is reportedly looking into the matter deeming the multi-million win "suspicious" after receiving notification from the Problem Gambling Foundation.
The Problem Gambling Foundation believes that it is illegal to promote international casino sites in New Zealand and has warned local players to be cautious when playing online. The online casino where the win took place is licensed in Malta, and the Problem Gambling Foundation's Andree Froude said that the foundation expressed concern that it's not legal to promote online casinos in New Zealand and turned the matter over to the Department of Internal Affairs (DIA) for investigation.
She incorrectly added that online gambling is unregulated and there are many scams associated with it and so they wanted to warn people to be very cautious.
According to local reports, the DIA has responded to media queries on the matter by saying that the casino in question had not been brought to the Department's attention, but based on reports of other large "wins" that were in fact lottery scams, the win is being investigated as "suspicious".
How lottery wins and a legitimate Microgaming jackpot win have anything to do with one another is a mystery and time will tell how the matter plays out. Let's just hope that Pou is allowed to keep his massive win.