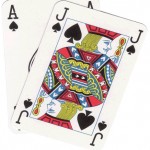 Contents:
5 things Novice Blackjack Players should know
Placing a Bet on Blackjack
Game Play Strategies
Winning Blackjack Tips
Basic Blackjack Strategy
Bankroll Management Principles
Blackjack Betting sizes & Risk of Ruin
Card Counting
Easily Correctible Blackjack Mistakes
Shuffling Machines in Blackjack Games


Casino Action is one of the leading Microgaming powered online casinos and a player favourite and it's not difficult to see why.
When it comes to blackjack, they have over 40 Blackjack tables to choose from and their offering encompasses all of the most popular single and multi-hand versions of the game as well as Live Dealer Blackjack games which are exceptionally entertaining. The graphics are superb and game play is crisp and smooth. You are totally in control and can personalize game settings to suit your desired pace which is really great. If you're a novice you can play for free in practice mode to until you get a handle on the game or to perfect your game strategy.
This is also one of the few casinos that offers a Blackjack specific bonus – in this case, up to $1250 as a match deposit bonus. So for the best Blackjack on the web, play at Casino Action now!
Blackjack is one of the most exciting online casino games. Why? Because it's quick and it's strategic. A lot of novices think that the game of Blackjack is as simple as beating the dealer's hand by getting as close to 21 as possible without busting (i.e. going over 21). If it were THAT simple, then EVERYONE would win. That's where the strategies come into play. Strategies like doubling down, splitting, and even card counting help to advance your blackjack skills and increase your earning potential. But before we get into all of that, let's go back to Basics.
Blackjack is also known as 21. There may be several Players at a Blackjack table, as well as the dealer. When playing Blackjack it's important to remember that you are playing against the Dealer and NOT against the other Players as in the game of Poker.
Another significant thing to note is that the value of the cards; NOT the suit of the cards is what is important. The value of the card depends on the number associated with each card. So, the card 5 is valued at 5 and the card 10 is valued at 10. Jacks, Queens, and Kings are called Face Cards, and they are also valued at 10. The Ace card is valued at either 1 or 11. So, if you are dealt a hand consisting of a 3 and a King, then your hand is worth 13 (3 + 10 = 13). Throw an Ace into the mix and you end up with 14 NOT 24, because 24 will cause your hand to "bust" or to go over 21, which is not what you want to do at any point.
The Dealer begins the game by dealing cards to each Player starting with the first Player on his left, moving clockwise around the table, and ending with himself. All Players' cards are dealt face up, while the Dealer's first card is dealt face down. A second round of cards is dealt in the same order to the Players first, then the Dealer. Once again the Players cards are dealt face up and so is the Dealer's card. Players decide whether to draw more cards (usually referred to as a "Hit") or to Stand (i.e. not take any more cards).When all Player cards are dealt, the Dealer then proceeds to draw cards to complete his hand. The Dealer must continue to draw cards until his total is 17 or more. If his total, however, is a soft 17 (meaning the combination cards includes an Ace, in this case, an Ace and a 6), the Dealer will draw more cards until his total is a Hard 17 or more.
The Player wins if he has the coveted Blackjack (Ace and a Face Card or Ace and a Ten), any card combination that totals 21, or a higher hand than the Dealer. The Player loses if his total card combination is less than that of the Dealer's or if he busts. A tie or "push" occurs when both the Player and the Dealer have the same total. In the case of a push neither party wins nor loses and monies bet by the Players are returned to them.
Now that you know the basics, you're ready to make a bet!