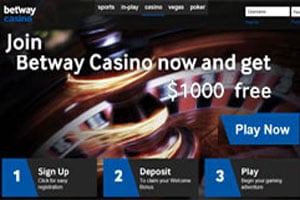 Play at Credible Online Casinos like Betway
Online casinos are a dime a dozen and it's often difficult to establish their credibility at face value. As any seasoned player knows, a short visit to any of the player forums fast reveals just how many rogue online casino operations there are out there. Of course, there are many completely trustworthy online casinos too…you just have to know how to spot the difference in order to ensure that you only play at those you can rely on.
Here are five things to look for when assessing an online casino in order to help you evaluate it before you deposit your hard earned money.
1. Commitment to Integrity and Responsible Gambling
Any online casino worth playing at will ensure that fair and responsible gaming standards are upheld. This will mean that the casino is licensed and regulated in a country that is known for holding operators to the highest standards by requiring them to be audited by independent bodies and to publish these results. Countries regulating online gambling include the UK, Italy, Denmark, Belgium and Spain.
Casinos committed to ensuring the best for their players will also usually be a member of eCogra (e-Commerce and Online Gaming Regulation Assurance) – an industry watch dog that audits, analyses and tests online casino efficacy before awarding their Certified Seal of Approval. Casinos bearing this mark generally operate to the highest standards.
Other councils and regulatory bodies that trustworthy online casinos may be members of are the Interactive Gaming Council (IGC), the Remote Gambling Association (RGA) or the Manx eGaming Associate (mega) if they are based on the Isle of Man.
2. Game Play Transparency and Security
Reputable online casino software providers like Microgaming allow players to track and view their game play and banking transactions through their PlayCheck and CashCheck systems. This ensures greater transparency at all points as players are able to monitor and audit their own game play and banking transactions at all times.
Even if you don't play at Microgaming powered online casinos, always ensure that the casino is able to give you the information that you want at all times. It is worth calling their customer support teams to find this out before playing.
Another important factor is the online casino's security and associated processes. Do they offer SSL encrypted transactions when dealing with your banking and personal data? Do they require you to submit proof of identity and residence when making your first deposit or withdrawal? While the latter may seem inconvenient it is a sign that the online casino in question is adhering to strict security protocols.
3. Operator Reputation and Experience
The online gambling industry has experienced exponential growth in a few short years, of course this has seen a number of new online casino operators entering the market across platforms. Some less reputable software providers issues licenses easily which has meant that virtually any operator with the required amount of cash can own a casino.
Reputable online casino software providers like Microgaming have however issued far few licenses over the years, and new operators are stringently screened before being granted one. If you are ever in doubt as to whether or not a casino operator is a seasoned industry professional, do a quick Google search to find out how long they've been in operation and rather err on the side of caution, sticking to the reputable, long-standing names that have been around for 5 to 10 years at least.
4. Progressive Jackpot Payouts
The way in which an online casino pays out progressive jackpots will tell you a great deal about the integrity and credibility of the organization. Some online casinos will payout any progressive wins in one lump sum total, while others will pay out a predetermined amount each month until the total is reached.
This means that if you happen to hit that life-changing win – it ultimately won't be all that life-changing as the money will be slowly doled out to you over years. There is the added risk that if, in the interim the online casino goes bust, you won't receive the money owing to you.
So do your due diligence before you play. As a note of interest, the majority of online casinos in the Microgaming progressive network will pay the full jackpot sum on a win and there have been no document issues with this to date.
5. Independent Dispute Resolution
Never under-estimate the importance of independent dispute resolution process whereby an external body like eCOGRA will resolve any issues that you can't solve personally with any eCogra registered online casino in question on your behalf.
In these instances you can contact eCogra directly and you will be contacted within 48 hours to confirm the receipt of the dispute. They will then investigate your complaint and if they find that the cause thereof is a material breach by the casino in question and is not rectified timeously, eCogra may withdraw their seal of approval from the property in question. This generally makes this process very effective.
As you can see from the above discussion, there are a number of ways to identify trustworthy online casinos but you do need to take the time to do your research. As with most things in life, the onus will always be on you to make intelligent choices.