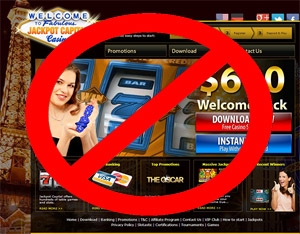 Avoid Rogue Casinos like Jackpot Capital
We've said it before and we'll say it again, while Real Time Gaming powered online casinos may seem innovative and offer some great games, beware of playing here.
This warning has been echoed in recent events wherein a slots player was playing the Spirit of Incas slot and hit a whopping $1,684,999.60 jackpot. Unlike the various other jackpot winners at other reputable online casino properties, this story did not have a happy ending.
The player in question subsequently found that their account was locked by the operator, Jackpot Capital. After querying this a week later the account was unlocked and the life-changing sum reflected in the balance. As the withdrawal process was initiated, suddenly the balance of more than $1 million just disappeared.
The player was then approached by the operator who offered them a compensatory payment of $1,000 or the option to have their June deposits refunded due to the fact that the jackpot payment had been revoked due to a technician's error that had triggered what was referred to as a "false jackpot".
A futile dialogue ensued before the matter was published on the player forums which then prompted a response from RTG's parent company Hastings International BV which stated that there were two servers in play – a quality assurance "test" server and an operational server. According to the Hastings representative the technician was carrying out routine checks on the progressive jackpots which trigger when a set amount is reached when he accidently used the operational server, manually increasing the Spirit of Inca slot's jackpot over the trigger limit in order to run the test.
This apparently happened to coincide with the players game play and resulted in a false win.
The Hastings International representative then assured players that measures were already in place to prevent such an error from occurring again. They also noted that Jackpot Capital is protected in this matter in the casino Terms and Conditions which state that "all pays and wins are void in the event of a technical flaw".
Obviously this is of no consolation to the player who believed that their life had changed for ever with a million dollar win and this is simply unacceptable. So be warned – RTG casinos have been blacklisted and should be avoided. And if you're ever in about playing at a casino, find out how to judge the credibility of an online casino here.