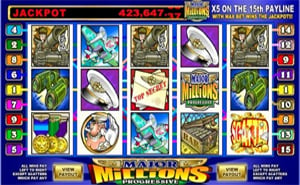 Want to be the next big winner?
Play Major Millions now!
For those of you following the Mega Moolah Progressive jackpot which is currently closing in on the 11 million, seeing this headline may have made your heart skip a beat but do not fret, it's not the Mega Moolah Jackpot that has been hit but rather the Major Millions Jackpot.
The €1,166,534 jackpot was hit on Monday the 31st of August 2015 by a player known as Eric D at Roxy Palace Online Casino which has recently been acquired by 32 Red. While the casino is yet to release all the details in an official statement, they have announced the winners name and the jackpot sum.
The Major Millions slot is available in both a 3 reel classic slot or 15 payline format and has a cartoon-like military theme with a base jackpot total of $250,000 – so any win on this machine is a relatively big one and the jackpot has an equal chance of being won on either format so players can really select the game that they prefer.
While the Major Millions jackpot does not reach the staggering sums that Mega Moolah does, it still averages payouts of around $570k plus per win with wins occurring every 10 weeks or so and the highest recorded win totalling $1,801,598.
So if you're in the mood to play a progressive jackpot slot that payouts out in smaller totals more often, then this machine may be for you. If not, you can always go for the big multi-million win on Mega Moolah progressive jackpot slot.