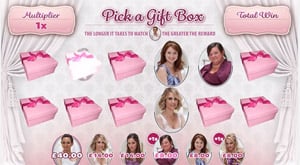 The Bridesmaids Slot at Casino Action
offers a highly entertaining and rewarding
Pick and Win Bonus Game
If you're an avid slots player you're probably familiar with the scenario wherein you've played your favourite video slot for some time and finally the bonus feature is activated and you feel a sudden rush of excitement as you get to pick from a specific set of symbols to unveil the prize beneath it.
On some occasions you'll feel elated at having picked the highest value prize, and on others, probably more often, you'll feel slightly cheated when you discover that you've (once again) picked the lowest value items. If this sounds familiar then you've probably also asked yourself if these types of "Pick and Win" bonus features have pre-determined results or not.
The answer to that question will vary and is dependent on factors like where you are playing and thus the type of software you're playing on as well as the particular slot game you're playing. For the most part it is a proven fact that the majority of bonus feature results and particularly the "Pick and win" features have pre-determined outcomes in certain slots formats, but this does not necessarily apply to all types of slots.
It is however impossible to tell which online and mobile casino software providers employ pre-determined outcomes in these features and which do not on particular games without playing them. So the best thing to do is play the slots you love and keep a record of your results over an extended period and then to analyse these by comparing your actual wins with the potential ones.
Bonus Feature Payout Comparisons
Pick and Win Games in Progressive slots
As mentioned above, if you keep on-going records of your Pick and Win bonus feature results on a particular slot over an extended period you will be able to ascertain whether or not the results are pre-determined.
The exception to this rule usually comes in with progressive slots games with pick to win bonus features which are generally not pre-determined. Generally the actual odds of you choosing one or more of the jackpot symbols in comparison to the number of locations there are to pick these will give you the actual odds of winning the progressive jackpot.
In some online slots formats you'll find multi-stage Pick to win bonus features – in these games once you have chosen a specific symbol that reveals a small jackpot prize you will then move on to the next round where the aim is to find a higher jackpot by selecting the correct symbol.
Pick to Win Features in Fruit Machines
Fruit machines are very popular online slots variants and also one where Pick X of Y outcomes are definitely predetermined. These slots have a very unique and different playing structure to standard online slots and when playing them, the amount of prize money awarded in any Pick to Win bonus game is known by the game before you ever start making your selections.
That said, some Fruit Machines offer a "Skill Stop" feature with is still a Pick and Win feature but one that involves skill in order to determine how much you will earn in winnings.
Other Pre-determined bonus features
Slots offer a variety of bonus games, many of which have pre-determined values attached to them – for example, some slots will offer you a specific number of free spins when three or more scatter symbols appear on the reels and many of these slots are programmed with the amount to be won during the bonus game.
Gamble games are another feature that has been incorporated into modern online slots. These games allow players the opportunity to risk their wins in a gamble that will result in them being doubled or lost completely and usually involve predicting a card being dealt. The results in these games are also generally pre-determined.
Pick and Match games are another popular feature and like the other games mentioned here, it doesn't really make much difference to the outcome where on the screen you make your selections as they results relating to how much you will win have already been pre-determined by the slot.
As you can tell from the above discussion, for the most part, bonus games are not games of skill (no matter how much they may seem like it) – and there is nothing that you can do to affect the outcomes in Pick X of Y type games. They are however a fun and exciting way to win some additional cash.
So give up the hope that every pick you make will lead to a life-changing win and simply enoy the game, knowing that your rewards will fluctuate as they do contribute to the slot's overall payout rate percentage.
If you only want to play slots with skill-based bonus features that offer genuine chances in their pick and win games, then look for the Fruit Machines offering the Stop Skill compontents.