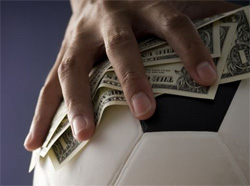 Their lives as sporting stars with mansions, fast cars, women, parties, booze, drugs and misbehaviour are splashed across the headlines of newspapers and glossy magazines on a regular basis but it seems that many professional footballers are now adding gambling addiction to their long list of vices.
Well, that is according to former England football star Tony Adams, who claims that his charity Sporting Chance which was established to assist professional soccer players to overcome their addictions has seen an increase in the number of gambling addiction issues recently and is currently treating more players for betting and gambling addiction than any other vice.
Adams reportedly believes that these addictions are largely due to easy access to online sportsbooks and believes that the aggressive marketing tactics employed by online gambling websites may be at the root of the problem. He has approached the Responsible Gambling Trust in order to address these marketing strategies and find a solution to the problem.
According to Adams, wealthy football stars are "actively pursued" by some book makers who offer them thousands of pounds worth of free bets as well as commissions for introducing other high rolling friends to the brand. Sporting Chance's CEO Colin Bland agrees with Adam's, stating that no other addictive substance is actively promoted, but gambling is the exception and players are bombarded with advertising while watching a game.
While getting your first bet free or having your first deposit matched by a sportsbook or casino are common practice, it is believed that these organisations amplify tempting offers on a grand scale in order to attract Premier League footballers to their sites and this leads to thousands of pounds being lost by players.
Sporting Chance is currently working with the Professional Footballer's Association to develop preventative and treatment programs designed especially for first team and premier league players.
Despite having strong opinions on the subject, the organisation claims that it is not anti-gambling and does recognise that many online casinos and sportsbooks have made considerable investments in the advancement of various sports. They do however feel that aggressive targeting and marketing are compounding problem gambling issues and that some form of accountability and regulation should be put in place.
When approached on the subject, CEO of the trade body Remote Gaming Association, Clive Hawkswood reported stated that he had no information that any sports stars had been specifically targeted by gambling companies. He insisted that all players were offered bonuses and promotions that included match bonus offers proportional to the amounts that they wagered and that VIP and loyalty programs are in place at some venues to handle high rollers, just like in land based casinos.
He further added that the RGA and Professional Players Federation already work closely to tackle problem gambling across several sports and added that if there's any concern from the Sporting Chance Charity that there's a link between targeted marketing and problem gambling then the issue should be brought to their attention.