Rock Royalty The Osbournes were the first legendary rock family to have themselves forever immortalised in an online slot, but now, big names are following. Swedish casino software provider NetEnt announced the official release of the highly anticipated Guns N' Roses online slot this week after signing a branding deal with the iconic Guns N' Roses rock band last year.
The all-new 20 line Guns N' Roses online slot is now available on both mobile and desktop versions of Betsafe Online Casino. What's more is that from now until the 27th of January 2016 you will get 20 FREE SPINS per day with their "Sweet Free Spins 'O Mine" promotion when you deposit £10 or more and play any online casino slots and 20 free spins will be awarded within the Guns N' Roses slot when you play it.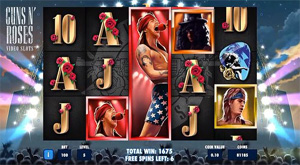 Be front and center for all the action
Play the new Guns N' Roses Slot now!
The game is being described as the company's biggest branded offering to date, with the rock 'n roll themed slot involving a production team twice the size of any other used in any previous game. The effort and attention to detail to the game really shows and NetEnt has done a fantastic job of not only capturing the legend that is Guns N' Roses perfectly, but also ensured state-of-the-art graphics and technical attention to detail that ensures that this game is an HTML 5 masterpiece.
In fact, it is the first ever slot to use WebGI and Pixie, a second-generation rendering engine that enables vibrant animations in HTML5. In addition, NetEnt has employed its unique in-house audio engine to match animations on beats to music, creating a magical blend of audio and visual effect that make the player feel like they have stepped into the game and are front row at a Guns N' Roses concert.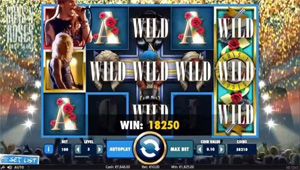 Their efforts haven't been in vain. Every second spent playing this game is a treat, from the game's soundtrack featuring iconic Guns N' Roses songs that will have you head banging and singing along, including Sweet Child O'Mine, Welcome to the Jungle, November Rain, Paradise City and Chinese Democracy, all of which were smash hits for Guns N' Roses over the years, to the seething, roaring crowd and an interface which looks like you're watching the band perform live on stage.
The graphics are spectacular, featuring the Guns 'n Roses logo, pictures of the band members featuring Axl, Duff and Slash of course, as well as their skull doubles and various musical instruments. The game is also packed with features including Encore Free Spins, Solo Multiplier, an Appetite for Destruction Wild and Crowd Pleaser bonus game.
NetEnt's chief product officer, Simon Hammon commented in a company statement released on Thursday that NetEnt was honoured to work with such an iconic band to release one of their most ambitious effort ever. He added that they couldn't wait for players to enjoy the musical game experience. So don't miss out, be a part of the legend that is Guns N' Roses at NetEnt powered online casinos like Betsafe.