Nearly every we report on a progressive jackpot that has been won, it is on a slot machine, which really is no surprise given that the majority of progressives are linked to online slots and the fact that these are way more popular amongst casino players than video poker machines.  However, Microgaming's most recent progressive wins, which hit within hours of one another, were both on Progressive Video Poker games!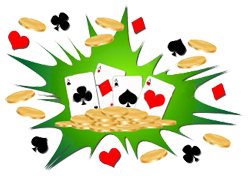 The wins on Jackpot Deuces and Supajax Progressive Video Poker games were for the outstanding amounts of $45,781 and $51,444 respectively.  The latter being rather significant as it is the highest progressive prize hit on the Supajax game variation in the last eight months.  In general Supajax pays out every 17 days on average, while Jackpot Deuces is hit every 2 days on average.
The hit rate on these games is not the only thing that sets them apart from one another, Supajax is a variant of Jacks or Better where the lowest payout is for a jacks or better hand but the pay table differs slightly from the original game in that a Full house and flush pay out lower than usual at 7 to 1 and 5 to 1.  This is largely due to the SupaJax option which means that the playing deck contains an additional card called SupaJax. If the final hand dealt contains the SupaJax card and four regular jacks then the progressive jackpot is hit on condition that the maximum wager of five coins has been played.
Jackpot Deuces on the other hand, is a variant of Deuces Wild where the deuces in the deck are wild and substitute for cards of any denomination and suit to complete a winning hand.   Payouts start from three of a kind, and like Supajax, the standard payouts are lower to accommodate the progressive jackpot feature which is hit when the player is dealt a natural diamond royal flush (a Royal Flush achieved without the help of wild deuces). Again, the maximum of five coins must be played to be eligible for the jackpot win.
So if you're a video poker fan, why not head on over to Jackpot City Casino and try your hand at these progressives, you may just be the next big winner!