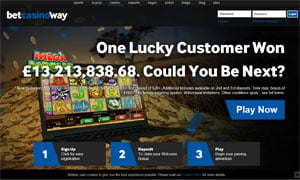 Play at eCOGRA certified Betway Casino
eCOGRA is an independent online gaming industry authority that has protected player interests, ensuring fair play, player protection and operator transparency and accountability for over a decade. It is a name that players have come to trust, knowing that only reputable casinos bear the eCOGRA "Play it Safe" Seal of Approval.
As the years progress and the online casino industry develops, a variety of complex issues has emerged and with the regulation of online gambling, casino operators are called to comply with more stringent requirements on every level than ever before. As such, eCOGRA has to be able to monitor and conduct compliance testing on various fronts and has recently expanded its portfolio to include third party vulnerability and penetration testing and is now an approved services provider in the UK, Spain and Italy for conducting such auditing.
Third party vulnerability and penetration auditing involves the identification of threats to the integrity, confidentiality and accountability of an online casino's information systems. eCOGRA will now conduct various assessments in this field, using newly developed specialist resources to evaluate the systems in place at both the casino software provider and operator's end to ensure that security layers are not breached on either side.
The new offering is headed by Shaun McCallaghan, the business development manager for vulnerability and penetration testing services. According to McCallaghan, his team is comprised of individuals from top auditing firms, those with gambling industry backgrounds including ISO27001 Auditors, members of Ethical Hackers, Vulnerability Assessors and Certified Information Systems Auditors.
According to Andrew Beverage, eCOGRA's CEO, this type of testing and evaluation is now mandatory for online casino software providers and operators and while they would have to go to third party contractors in the past, this offering now falls under eCOGRA's service umbrella. This is convenient for eCOGRA registered casinos that currently use the organisation for RNG and RTP auditing, information security audits and alternative dispute resolution.
This is good news for players as it means that not only can they have peace of mind that eCOGRA will assist in any player dispute resolution proceedings should the need arise, but also that the security of sensitive information regarding person and banking details will be intensified and measures to do so will be audited, as will the process of funds transfer when making deposits and withdrawals. Yet another reason to play at eCogra certified online casinos.