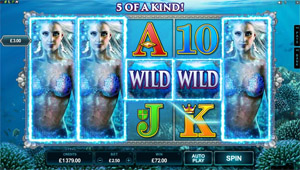 Expanding Wilds offer more winning potential
on the
Ariana Video Slot
Do you feel like you have terrible luck at the slot machines? Like no matter how often you play, you simply never win? Do you wonder when to give up on a slot?
You're not alone! Many slots players complain about losing consistently. Yes they enjoy the games and the entertainment value, but let's face it, winning is a whole lot more fun than losing even if you enjoy the game.
You may have been told that you are not playing a machine for long enough, but your consistent losses may come down not to the period of time you spend playing a slot, but rather the type of slots you're playing.
When it comes to modern penny video slot machines, these have effectively increased our average betting amounts. Instead of wagering 75 cents or a dollar per spin like we would have in days gone by on quarter machines, most of us end up spending a few dollars or more per spin, and even betting more per than we would on a dollar machine.
In general, most casinos order very low, long-term payouts on their penny slots – a strategy that made sense when players could only be a single penny per payline, but with modern designs, penny slots now offer multiple paylines and betting minimums have increased to 40 cents or more per spin. This means that these slots should have payout rates equivalent to those on 50 cent or dollar machines (or higher), but they don't and the long-term payouts on these machines make it difficult for players to make a profit.
Another contributing factor to persistent losing streaks may be attributed to the design of the majority of video slots. In spreading your wager over multiple lines, you may experience a high hit frequency due to the fact that so many paylines are active. This results in two obvious issues, the first being that spreading your wager means that the majority of hits that we enjoy actually pay out less than your total wager, and even if you high a combination with high payouts it doesn't return that much to you because you haven't wagered that much on the particular line. This means that even a larger value bet is spread in smaller increments across numerous paylines.
This means that you can deposit $100 into a penny slot machine and wager $2 per spin, enjoy some game play time and then end up down to $80. Then in order to break even, you need to win 40 times your $2 wagering amount. How many times has this happened to you when playing a penny slot?
If however you end up playing the equivalent $2 on a classic single line slot where multiple symbol combinations payout at 40 times your bet or more, you'd have a much easier time breaking even and even showing a profit than you would on the multi-payline machines.
Obviously slots software developers are aware of the issue that persistent losses present and as such have begun to incorporate stacked symbols like scatters and wilds that are taller or wider than a single stop on the reels. This type of design then increases the volatility of the machine, so while it hits less often, the wins are considerably larger which bridges the gap between the payouts and playing experiences on single-payline and video slots.
So you've learnt what type of machines to look for, but when to abandon play at a particular slot still needs to be addressed. If you're playing $50 on a slot, once that $50 has been spent, nothing has changed. The odds of hitting the jackpot are the same on every spin, regardless of how much money you've won or lost while playing previously. So there's no mathematical reason to stop or continue playing because the odds haven't changed.
This means that when to leave a machine will come down to your budget, the way it's making you feel or both. If you've depleted your predetermined budget without any significant wins, then it's a good time to stop playing or if you happen to feel frustrated at your consistent losses, then why continue to play if it's no longer fun? Rather call it a day and come back another time.