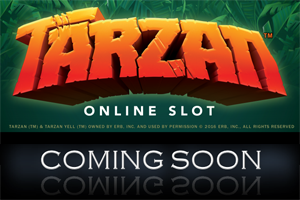 Hot on the heels of "The Legend of Tarzan" movie release, Microgaming has announced that it has signed an agreement with Edgar Rice Burroughs Inc. which gives the software giant the exclusive rights to the Tarzan™ name for use in online slots.
And with all of the hype surrounding the feature film, the timing could not be better for Microgaming, although Tarzan has been entertaining generations since the release of Burroughs first Tarzan of the Apes novel in 1912. With no less than 29 different actors portraying the role of the jungle hero in movies since 1918, Tarzan has also been the subject of numerous comic strips, TV series and two Broadway stage productions. And thanks to Microgaming, he'll soon be appearing in online and mobile slots formats at your favourite Microgaming powered casino like Betway!
The Tarzan slot is due for release towards the end of 2016 and sneak previews reveal Tarzan taking centre stage in the game while alongside him you'll find Jane, Archimedes and of course, all of the wild jungle creatures that have helped to make this character a legend over the years. There's just so much potential in this license that it's hard to contain one's excitement!
CEO of Microgaming, Roger Raatgever shares the sentiment, stating that Tarzan is a globally recognised, timeless character and that the company is excited to be launching the Tarzan slot. He added that the talented Microgaming software development and game design team has relished working with a new brand and designing a game that celebrates and embraces the essence of Tarzan. Having seen the game prototype, Raatgever promises that Tarzan fans will not be disappointed.
James Sullos, President of Edgar Rice Burroughs, Inc. agreed, stating that the company couldn't be more pleased than to license Tarzan™ and his friends to a quality company like Microgaming. He added that Microgaming's extensive experience in developing online slot games served as assurance that the new slot would attract many fans and players to the game from across the globe.
So if you're a Tarzan fan, watch this space for more details of the upcoming release!