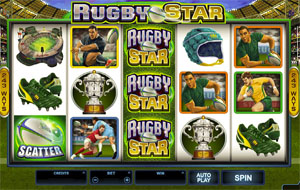 Play Rugby Star Slot now!
To commemorate the 2015 Rugby World Cup – Microgaming has released its very own tribute to this illustrious tournament in the form of its Rugby Star online slot, that is sure to have slots players who are rugby fans torn between watching the game and playing this one on their PC's or mobile devices.
This slot is designed in a 5×3 reel layout and offers Microgaming's unique 243 Ways to Win format – which is actually a clone of previous releases like Cricket Star and Football Star which were released for the previous Cricket and Soccer World Cups respectively.
What you may be happy to hear though, is that while it's a design replica of previous sports game formats, the mathematical algorithm governing the game has been updated which means that it offers more frequent wins and higher payouts than its predecessors.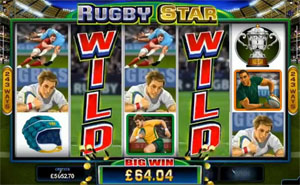 Exciting Stacked Wilds feature
The graphics of the game are very appealing, designed in a cartoon style and no matter what team you support the animation will leave you feeling like you're a part of real game action as the players fly across the reels, passing and diving to score those try's. Add to this the soundtrack and the roar of the crowd in the background and it's sure to bring a thrill to even the most seasoned sports fan.
Rugby Star is also packed full of features including Stacked Wilds – a feature wherein the wild symbols group together in columns to enhance your payouts. There is also a free spins bonus round where a Multiplier Trail may be activated when you experience two or more consecutive wins, then multiplying your winnings by up to 10x – a feature that will have you on the edge of your seat as you anticipate the next hit.
Betting starts at 2 pence and ranges upward to a maximum of £40 per spin – which means it caters to players on any budget.
With a top paying jackpot of up to £120,000, all you need to do is hit five jackpot symbols to reward you with up to 2,400 times your wager. While you're aiming for the jackpot, playing this medium volatility slot means that you'll enjoy more frequent wins along the way and while they are never anything worth boasting about (in our game play experience at least), you won't lose huge amounts either.
So while Rugby Star is not an entirely unique game, it will definitely be a crowd pleaser as we gear up for the Rugby World Cup and with its new wallet-friendly algorithm it's sure to be a popular game.