If you're a fan of Microgaming powered online casinos and are looking for the best one to play at when it comes to Craps, then look no further than Jackpot City Casino.
Jackpot City Casino's craps games do have a slightly different layout than at some other online casinos, but this doesn't detract from the game's enjoyment and even makes it feel fresh and new. Their games feature state of the art graphics, realistic sound effects and smooth game play. A really great feature is that you are able to control everything from the game sounds to the game pace in your control panel and customise the games according to your preferences.
Jackpot City's craps games feature high wagering limits with table limits topping out at $1,000, this means that is the perfect casino for any pocket and even if you are a high roller. What more could you ask for? Play now!
Craps is for the most part a game of chance but some bets are more profitable than others. This means that in order to increase your chances of winning, you should be aware of which bets to make and which to avoid. By studying the Craps Odds chart below you will learn more about the Payoffs and House Edges for the bets you've already learned on the Craps Bets, Payoffs, and House Edges chart below.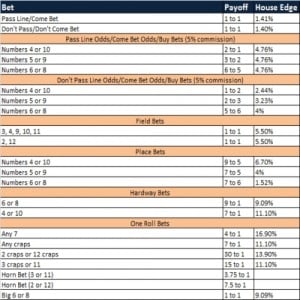 Take a look at the 36 dice combinations for each dice total, the odds of
hitting each combo, and the odds percentage in the Dice Combos and
Odds chart below.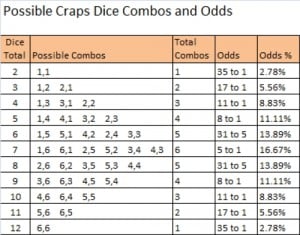 Understand your Odds on winning bets on the Pass Line and Don't Pass Line.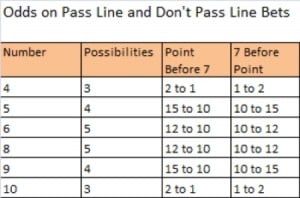 This chart shows the 36 dice combinations for each dice total, the odds of hitting
each combo, and the Odds of hitting each number against the number 7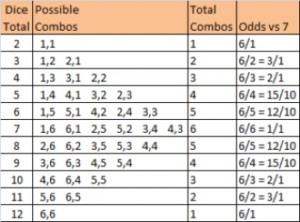 Time to learn how to get the best odds outlined in the charts by using our Proven Craps Strategy.