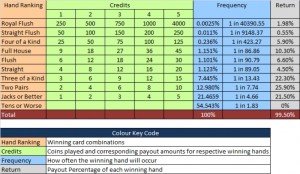 This Chart represents Payouts for the popular game of Jacks or Better using minimum (1 coin) to maximum (5 coins). It also shows the frequency with which you can expect these hands to occur and their respective payout percentages.
Click on the image for a better view.
If you look closely at the table, you will notice a couple of key things; namely:
Each credit or coin played increases payments proportionally
If the maximum number of coins is played on a Royal Flush, the payout between the 4th and 5th coin quadruples.
Please bear in mind that the Frequency and Return on this chart is only true if the game is being played using optimal strategy, which we will cover a little later on.
Now that you know how much you will get paid when you have winning hands, let's take a closer look at what card combinations comprise winning hands. Click on the link for general Video Poker Hand Rankings.