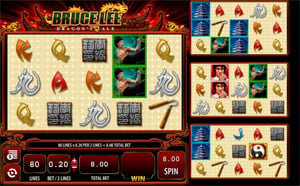 Bruce Lee is one of the WMS slots whose
Auto Play button has been removed at
some online casinos
As part of the UK's Remote Gambling Act a prescribed set of software technical standards have been set out, many of which come into effect this year.
One particular section of the Act, Section 8 A regarding the Auto-play feature offered in slot machines is already affecting some players with online casino games manufacturers like WMS removing the feature from their real money games like the Bruce Lee slot.
At present it is unclear whether or not the removal of the Auto-play button is a temporary situation while the game is being re-worked to comply with the latest standards, or whether this will be a permanent solution to compliance. The coming month will also reveal whether or not other casino operators will follow suit.
The RTS requirements relating to the Auto Play function within the technical standards requirements document state that gambling systems must:
a) make three controls available to players which stop the auto-play functionality within a game when it is triggered.
"Loss limit", i.e. where the player selects an option to not lose more than a designated total from their starting gambling account balance, where the designated amount is one that can be selected by the player. A "loss" in this context equates to the total auto-play bets minus the total auto-play wins.
A "single win limit" – this refers to a single win greater than a specific amount where that value is an amount that can be selected by the player.
A "jackpot win" (where applicable).
b) Require Auto-play to be implemented in such a way that every time a player opts to use this function they must select the stake, the number of auto-play gambles and at least the first of the above-mentioned three controls. The number of auto-play wagers must not exceed 100 in a single batch.
When the auto-play function is active the player must be able to stop the auto-play regardless of the number of auto-play wagers they initially selected or how many remain.
Auto-play should not override any of the display requirements (for example, the outcome of each wager must be displayed for a reasonable length of time before the next wager begins).
While most online slots have at least one of the above-mentioned features, compliance with all of them may pose a need for further development for some software developers.
For players who use this feature on a regular basis the removal of this feature is sure to be a great source of frustration even though Auto-Play is a function no player should ever be using on a regular basis. Yet still it is a favourite of many, especially during bathroom breaks and runs to the kitchen to grab food or drinks while they play, so let's hope that for their sakes instead of removing it altogether, developers will make the changes and re-instate it.