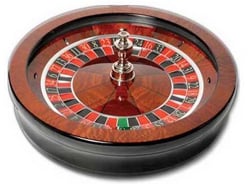 Contents:
Placing a Bet on Roulette
Different Types of Bets
Winning Roulette Tips and Strategies
A beginner's guide to European Roulette
Roulette Systems
Roulette Glossary
Roulette Myths


Europa Casino is one of the most popular Playtech powered online casinos and as such offers not only excellent customer service, great bonuses and promotional offerings but also high quality table games.
When it comes to online roulette, Europa Casino's offering is exceptional, with over a dozen variations to choose from including traditional versions of the game like classic American and European Roulette as well as some of the less traditional but very entertaining versions of the game like Progressive Marvel Roulette with an ever increasing progressive jackpot, 3D Roulette Premium and Roulette Pro. If you're a mobile fan, several variations of their roulette games are also available on their mobile app, so you can play anywhere, any time.
There has never been a better place to play roulette online! Visit Europa Casino now!
Roulette is the most entertaining casino game of chance by any standard. There are two types of Roulette in a casino; American Roulette and European also known as French Roulette. The major difference between these two Roulette games is the wheel. The European Roulette wheel has 37 numbers (0 through to 36) while the American Roulette wheel has 38 numbers (0 to 36 as well as 00 – known as double 0). The double 0 (00) in American Roulette increases the house edge to 5.26%, so it is in your best interest to play European Roulette which has a house edge of 2.7%. Before you begin playing Roulette, however, you must first understand the layout of the wheel.
Layout of the American Roulette and European Roulette wheels

As you can see, the numbers on the Roulette wheel are marked with the colours black and red except for the 0s, which are marked with the colour green. The black numbers are 2, 4, 6, 8, 10, 11, 13, 15, 17, 20, 22, 24, 26, 28, 29, 31, 33, and 35. The red numbers are 1, 3, 5, 7, 9, 12, 14, 16, 18, 19, 21, 23, 25, 27, 30, 32, 34, and 36.
If you look more closely at the wheels, you will notice some interesting things, namely, that the numbers directly across from each other are exactly one number apart; odd red numbers are usually directly across from the next higher even black number; and every other number added together equals 37 or 39.
Ok, now that we covered that aspect of Roulette, let's get down to placing a bet.