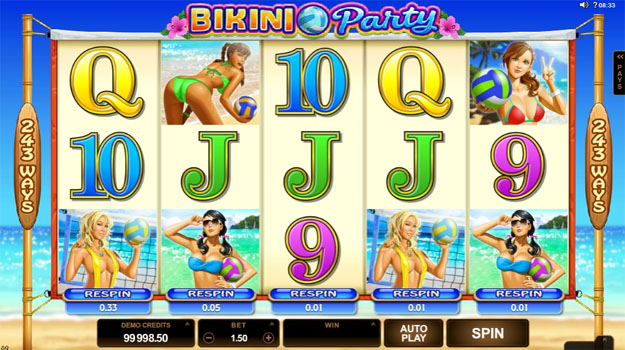 Bikini Party is a Paytable Achievement Slot
A number of years ago Microgaming added the Paytable Achievements feature to some of their online slots like Thunderstruck II, Playboy, Immortal Romance, Ariana and Bikini Party.
Perhaps you've seen this feature and wondered what it's all about, or maybe this is the first time you're reading anything about it at all. Either way, here's the lowdown on everything you need to know about how it all works and what to look out for when playing these games.
In short, the achievements feature allows you to collect badges and trophies when you achieve certain game objectives as well as pick up additional monetary rewards and bonuses when you achieve the predetermined game play events.
When playing these types of online slots you will find all of the relevant payout information by clicking on the question mark symbol on the game dashboard rather than consulting the general paytable.
So how does it all work? Let's take the Bikini Party slot for example, the girl in the red bikini pays out when two or more of these symbols appear from left to right across the reels. There are four winning combinations for this symbol. If you land this symbol on reels 1 and 2, you'll get a 2-of-a-kind combination win highlighted on the paytable, if it appears 3 times then you'll get the 3-of-a-kind combination highlighted and so on until you've managed to get all of the possible combinations for a specific symbol highlighted after which you'll be notified of a paytable achievement and receive the associated reward.
These achievements are separate from your wagered amount so adjusting the size of your wager will not affect them in any way, shape or form. Generally you'll find that when you first play a specific paytable achievement slot, achievement events occur more frequently as you hit the lower the requirements to trigger these. Obviously as time goes on these achievements slow quite considerably as the higher ranking achievements are the rarer occurrences in slots play such as 5-of-a-kind combinations.
As such, you'll find that it is close to impossible to hit every achievement combination listed on the paytable in a single gaming session, but don't worry, even when you exit the specific video slot, your achievements will not be lost. The next time you login to the casino and play the game, it will load your previous game and up-to-date achievements.
It is important to note that there have been some issues with these types of slots with players who don't really understand how they will work and affect their overall game play and wagering. At some casinos, any credits or bonus prize money awarded by the slot is credited to your player account immediately. This cash is however often treated as bonus money rather than just a prize and as such may incur a wagering requirement at certain casinos which you will then be held to before you are able to cash out (just another step in the evolution of the history of casino bonuses – now they've been added to games!). It is for this reason that many players tend to avoid these games.
So before you play, make sure that you contact support to clarify how these rewards are treated at their specific casino and if the prizes can be removed manually should you prefer.