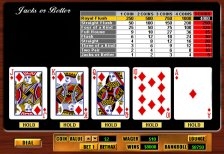 Contents:
Selecting a Video Poker Game
Playing Video Poker
Video Poker Payouts
Video Poker Rankings
Video Poker Strategy
VP Strategy Charts
Video Poker Tips
Exploring the strengths of various Video Poker Draws
Video Poker Advice


If you're a Video Poker fan and looking for the best place to play online, look no further than Royal Vegas Casino. This casino has been around since the year 2000 and has been pleasing casino players ever since!
Powered by Microgaming, Royal Vegas offers games of the highest quality with their Video Poker offering spanning all of the usual favourites and variations thereof, so you'll be spoilt for choice when playing here. They also offer progressive jackpot Video Poker games like Jackpot Deuces and Supajax and have seen a number of BIG jackpot winners over the years.
Their customer service is second to none and they have a variety of on-going promotions as well as new games launches to keep you coming back for more. Definitely worth a visit!
Video Poker is an exciting and entertaining single player game. It is a combination of skill and luck using the elements of Slots and Poker. Video Poker has one of the lowest house edges around. The Payout Percentages (i.e. the monies paid out to Players) is usually in the 90+ percent range, so it definitely makes for a rewarding gaming experience.
The outcome of a hand in Video Poker is determined by a Random Number Generator (often referred to as an RNG). The RNG generates numbers at a rate of 1,000 numbers per second. Odds on a Video Poker machine are fixed. When you initiate game play (i.e. when you hit the 'Deal' button), the RNG generates a number that corresponds to a card combination. This is also true with replacement cards.
Despite its name, Video Poker really has no Poker strategy. You play against the machine; the cards are reshuffled after each hand; and the final draw of the cards determines your success. However, there is a certain amount of strategy that can be applied because you are given the option of discarding unwanted cards (i.e. cards that you think will not result in a winning hand). Before we proceed with Video Poker strategies and tips, let's take a look at how to play the game.